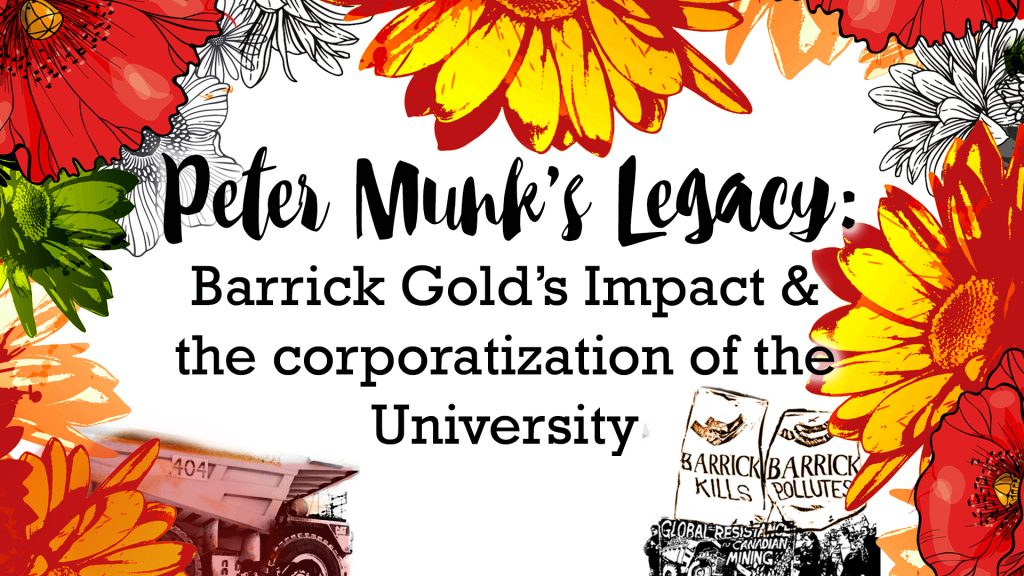 MON. APRIL 23, 6:30pm
TEACH IN: Peter Munk's Legacy: Barrick Gold's Impact & the UofT
Sidney Smith Hall, UofT – Room 5017A
FB event here.
Join us as we look at what it is like to fight for justice from a powerful corporation like Barrick Gold. We will look at the experiences of impacted communities and the tactics that Barrick has used to address these crises. We will also look at Peter Munk and Barrick Gold's philanthropy within Canada and how that has played a role in supporting corporate impunity abroad.
TUES. APRIL 24, 9:30am
Mourn the Victims of Peter Munk: Confront Barrick Gold
88 Queens Quay, Toronto
FB Event here.
***UPDATE: Both the protest and the teach in will feature Indigenous Human Rights Defender and founder of Porgera Red Wara (water) Women's Association, Cressida Kuala. Additionally, the protest/vigil will feature musical performance from Amai Kuda and Y Josephine***
The media's response to the death of Peter Munk – valourizing a man responsible for countless deaths, widespread sexual assault, and the destruction of entire ecosystems – is a reminder of the power of money. It sets a dangerous precedent – that whatever crimes you commit, whatever devastation you cause, can be forgiven if only you share a fraction of your stolen wealth.
Meanwhile, Peter Munk's legacy exists in many places – sites that are marked by active resistance against the lies and impacts of Barrick Gold.
Join us outside Barrick Gold's AGM as we honour the victims and uplift the demands of communities silenced by the drumming of Munk's accolades.
Together, we can create a beautiful scene to centre Barrick's victims and counter Munk's image of benevolence and demand accountability for the communities impacted by Barrick.