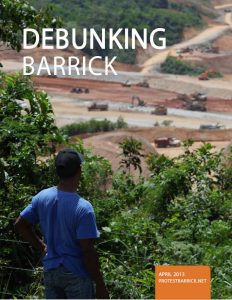 As Protest Barrick completed its sixth year of working with communities impacted by Barrick Gold, we published a different kind of alternative annual report. We had noticed over the years that despite some of Barrick`s major abuses coming into light, the company has been able to maintain – within select circles – a reputation for Corporate Social Responsibility (CSR). Meanwhile, around the world, Barrick's name is still associated with corruption, abuse and environmental harms.
This report intends to explain this disconnect. With information provided for us by front-line communities, we will attempt to reconcile their truth with Barrick's lies.
Luckily, throughout the years, Barrick has been caught misrepresenting themselves, hiding information, and engaging in cover-ups and acts of intimidation to hide their human rights and environmental abuses. This behaviour has improved Barrick's image with the CSR industry as much as it has emboldened movements against Barrick's corruption in the countries in which they operate.
Interestingly, as the prices of Barrick's shares have plummeted due to rising costs, lawsuits, and bad decision-making, their executives and board members still claim high bonuses due to the company's CSR targets.
We expect this report to be of interest to investors and social justice advocates alike. Join us as we debunk Barrick's CSR programs and their socially responsible image, revealing a pathological company ignoring the warning signs of numerous conflicts across the globe.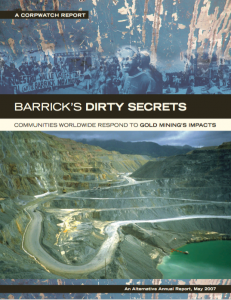 The report "Barrick's Dirty Secrets – Communities Worldwide respond to Gold Mining's impacts" was a collaborative project that led to the creation of ProtestBarrick. Each article was submitted by groups of people intimately close to the issues, from all over the world. Translated into Spanish and English, this project was put together by Sakura Saunders, then with the US-based NGO CorpWatch.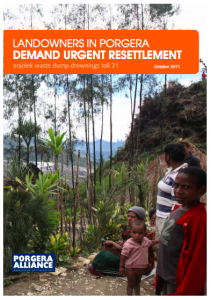 The Porgera Land Owners Association (PLOA), in partnership with the Porgera Alliance released a report  detailing the case for the urgent resettlement of their people away from Barrick's Porgera mine. The report covers the health hazards associated with living close to the mine, as well as enumerating the human rights abuses caused by mine security. The report also recounts the history of the mine's agreements with the local community, revealing a pattern of neglect of the community's free, prior and informed consent at nearly every stage of the mine's development.
This report follows investigations and reports published by Amnesty International, Harvard Law, Human Rights Watch, and the Norwegian Government all detailing the dangerous conditions near the Porgera mine. However, this report stands out as a comprehensive look at the history of the Porgera mine, from the perspective of the landowners who have led negotiations with the company.